When we all aspire to returning to a pre-covid social life, why should we support public value? 2020 was indeed the year of restricted travel, remote working and educating, professional uncertainty, self-isolation and social emptiness. It has brought the sadness of seeing our beloved ones become defenseless. We all shared vulnerability and uncertainty. In 2021 YOUR PUBLIC VALUE turns into a Membership-based Organisation. Our goal is to develop an active and inspiring membership to maintain dialogue on the Public Value Principles© and contribute to shaping the society we aspire to. Individual Membership is open to everyone interested in better understanding -and advocating for- public value causes.
Why support public value?
PUBLIC VALUE IS VALUE PRESERVED AND CREATED THROUGH POSITIVE ACTION – FOR ALL AND EACH OF US, FOR SOCIETY & THE ENVIRONMENT
The COVID-19 crisis has deeply transformed us. It has impacted our ways of working, producing, consuming, and interacting.
During the COVID-19 lockdowns sociologists and experts in sustainability highlighted how poorly health and education workers were paid despite being on the front lines of the pandemic, and reaffirmed the need for inclusive and sustainable growth. As the death toll rose it became glaringly clear that systemic change was needed in global capitalism. Already in 2018, the Deloitte Millennial Survey mentioned that 63% of millennial workers said they considered the primary purpose of business to be "improving society".
We are approaching 2021 with the acute feeling that our future is unpredictable. And even more so is the future of our children. We all know the world economy urgently needs to change. But it is still unclear how the world economy can bridge common good and profit. 
At YOUR PUBLIC VALUE we believe that companies should integrate public value principles into corporate governance and development strategies to get prepared for the next disruptions and their multifaceted, constantly evolving impacts.
And we also believe that each of us, citizens, should clearly support public value for our own survival and call on business to do the same. Companies have the power to make profits while creating positive action for all and each of us, and also for society and the environment. We believe society and the environment should be considered as active stakeholders of any company. We advocate to support public value and call on business to bridge the common good and profit, to positively contribute to society, and to engage with their environment and communities, in order to re-establish trust between business and society,
At YOUR PUBLIC VALUE we rely on co-creation to shape our advocacy. With a multi-disciplinary and inter-generational approach, we make sure that all we say is based on what the vast majority of citizens think.
Two programmes articulate our approach:
Public Value in Business: We co-create a public value self-assessment tool and offer training on drafting your own public value roadmap. We also organize Public Value Labs in various industrial sectors.
Public Value Youth Voices: Senior experts and youth leaders mentor each other and help youth leaders develop their value-driven project.
Co-creation of Public Value Principles©
In 2020, we asked 124 European experts to co-create Public Value Principles© to define the best practices in corporate behaviour. We asked them to co-create principles easily understood by all, measurable, and leading to positive impact on society and the environment — a Public Value Compass to shape the common good: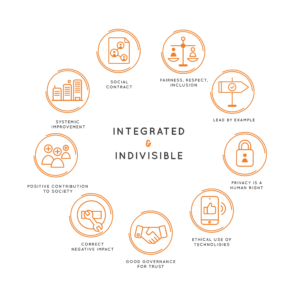 WE  GOVERN, LEAD, AND RUN OUR COMPANY ON THE PRINCIPLES OF FAIRNESS, RESPECT AND INCLUSION FOR THE BENEFIT OF SOCIETY
WE EMPOWER INDIVIDUALS AND LEAD BY EXAMPLE AT ALL LEVELS
WE ACKNOWLEDGE INDIVIDUALS AS THE OWNERS OF THEIR DATA AND THEIR PRIVACY AS A HUMAN RIGHT
WE ENABLE AND EMPOWER HUMAN OVERSIGHT FOR AN INCLUSIVE, TRANSPARENT, AND ETHICAL USE AND APPLICATION OF TECHNOLOGIES, DATA, AND KNOWLEDGE
WE SEEK CONTINUOUS IMPROVEMENT AND BUILD TRUST BY MEASURING, AUDITING, AND SHARING INTENTIONS, ACTIONS, AND IMPACT TRANSPARENTLY AND REGULARLY 
WE COMMIT TO CORRECTIVE ACTION IN COLLABORATION WITH OUR PEERS AND STAKEHOLDERS AT LARGE FOR ANY NEGATIVE IMPACT THROUGHOUT OUR VALUE CHAIN
WE ARE ACCOUNTABLE FOR MAKING A POSITIVE CONTRIBUTION TO THE SOCIETIES IN WHICH WE OPERATE THROUGH OUR BUSINESS MODELS
WE STRIVE FOR SYSTEMIC IMPROVEMENT TOWARDS CIRCULARITY AND REGENERATION WITHIN PLANETARY BOUNDARIES
WE ASPIRE TO AN INCLUSIVE GLOBAL SOCIAL CONTRACT THAT WILL IMPROVE THE LIVES OF PEOPLE LOCALLY AND BEYOND
In 2021, we will take this work further and develop a self-assessment tool for each of the nine principles with the view to bring clarity to business. Members of YOUR PUBLIC VALUE are invited to participate in all working groups.
Our accountability to support public value
We aspire to lead YOUR PUBLIC VALUE according to the Public Value Principles© and we annually report to Members on the progress made. All projects are based on thorough research & a four-pronged approach to remain responsive to societal changes:
DISCOVER: Our independent research focuses on the root causes of societal challenges and stakeholder beliefs in industrial ecosystems.
DISCUSS: We enable dialogue on public value implementation via multi-stakeholder PUBLIC VALUE LABS.
DELIVER: We rely on co-creation to shape solutions to given challenges and always keep in mind the need to improve business-society dialogue.
DEEPEN: We communicate on the impact of public value projects and draft global recommendations as potential industry transition roadmaps.
Our budget is divided into two categories to facilitate reporting:
Our unrestricted income is invested into expenses and fees needed to develop the Organisation;

Our restricted income is always linked to specific projects and invested as agreed with donors/partners.
Your Public Value Membership
YOUR PUBLIC VALUE's Individual Membership is open to everyone interested in better understanding -and advocating for- public value causes. The fees are meant to cover the recurring unrestricted expenses of the Organisation. Membership fees are considered as donations and are tax deductible in Germany.
The annual membership fee for individuals is 180 EUR. Upon evidence, students and retired persons receive a 50% discount rate.  
Individual members of YOUR PUBLIC VALUE are officially welcomed on our Slack channel and are entitled to the following benefits:
Voting right in our General Assemblies (either in person or by proxy)
Access to our monthly "Dialogue Space", a structured online meeting to network and discuss the latest trends in public value creation 
Priority list to attend our online Public Value Labs in various sectors 
Free participation in our Working Groups – an opportunity to co-shape public value roadmaps and our self-assessment tool
Free access to one online training per year, and a 50% discount on the ones with accreditation (to come in 2022)
Use of our logo on LinkedIn and mention that you are a Contributor to YOUR PUBLIC VALUE
Publication of non-commercial blogs on our website and our LinkedIn group
Active networking with like-minded experts via our Slack platform.
Our onboarding process includes a formal introduction to existing members, as well as a brief overview of YOUR PUBLIC VALUE past, ongoing and upcoming initiatives and activities. We organize monthly group chats with all members, where you are welcome to network and present your own activities. We believe this approach helps create a vibrant community, enhances knowledge exchange between members and also helps us  design new projects. 
We look forward to welcoming you in 2021!