Alia is a hidden worker for international brands of the apparel industry. Vivek K. Singh is a sustainability expert who lives in India and denounces the poor conditions of the local population working in the supply chains of the global apparel industry. Today, he brings to our attention the story of Alia, a 22-year old hidden worker who toils under the most difficult conditions for the benefit of Western consumers. It's time to say: "Enough! These workers deserve better working conditions! Brands should reduce their financial appetite! And we, consumers, should accept to pay the price such a beautiful hand-made work deserves.
The story of Alia is alarming. Alia doesn't seem to complain. Yet, she works under what most of us would consider inhuman conditions. This means that some workers live and toil in even worse conditions…
To protect Alia's identity, we have changed both her name and that of the village where she lives. International brands do not know her face, but they could trace her and her village. In the past, when hidden workers complained, local contractors working for international brands simply stopped employing them, thus adding to their plight.
We'll protect Alia's identity. Should you be interested in knowing more about this case and the Shahpura community, please contact Your Public Value.
Here's Alia's story as told by Vivek Singh and supported by his photos:
THE STORY OF ALIA
"Alia is a friendly young lady, easy to talk to. She is what the industry calls a "home-based" garment embellishment worker in Shahpura, a village in Bulandshahr district of India's National Capital Region. Being "home-based" for many workers like her often means being kept outside regulations the industry would impose to its factory units.
Alia is only 22 years old. Yet, she looks as if she were 40. She has three children and her main concern is their health, as they all suffer from various ailments. Her younger son Nabil has severe eye problems and could turn blind unless he gets proper medical attention. Alia herself, who has to sit for extended hours in the same posture to perform her intricate garment embellishment work with nothing to support her back, suffers from acute back pains and headaches resulting from the constant eye strain induced by her toil.
Alia started working when she was 11. At the age of 15 she got married and since then she has been contributing to supporting her family. Her husband, a construction worker, is employed in a nearby town. In return for her 6 to 8 hours of daily work Alia gets Rs 60 (0.76 euro). Even though she works for five different contractors, her monthly wage totals just Rs 1500 (19 euros). By comparison, the Indian government has set at Rs 9381 (118.30 euros) the minimum wage for trained workers.
With such low wages, Alia cannot afford proper healthcare for herself and her children. Healthcare for them would not be a luxury: Alia`s children have been seriously ill and suffered from typhoid, stomach pains and poor eyesight. In front of her home is a heavily polluted pond, which is also responsible for many ailments among villagers.
The Muslim-dominated village of Shahpura is an embellishment hub for international apparel brands. An estimated 80 percent of its households are involved in hand-made embellishment work and nearly 95 percent of the workers are women working for international fast fashion and retail brands. A few years ago men represented 60 percent of Shahpura's workforce involved in garment embellishment. But because of a sharp decline in textile export, most of the men had to look for jobs in nearby towns and cities. Today, the majority of Shahpura's male population is involved in farming and construction work. And the apparel industry has turned to women.
Things can even get worse. Citing poor quality work, mistakes and the soiling of products, employers regularly deduct the wages of garment embellishment workers. Sometimes these deductions surpass the cost of labor and materials. Suppliers are not in the habit of disclosing where these small production units are – in fact some of them deny they even exist. All these home-based production units are part of informal supply chains in the apparel sector. Neither inspection nor monitoring programs apply to them. This goes against all EU regulations..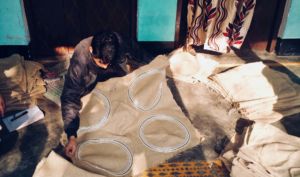 Until two years ago, Shahpura was a hidden outsourcing hub for the apparel industry. Brands were even unaware that home-based embellishment workers were part of their supply chain, or they didn't want to know too many details. Even though some brands now know about the existence of these hidden workers, very few have moved to improve their situation. Most workers remain underpaid and are still getting less that the government-set minimum wage. These workers are confined almost exclusively to the lowest production tiers. There is a word to qualify such situation in the EU and US context: it can easily be qualified as forced and bonded labor."
Are you moved by the story of Alia? Please share and comment. This can only help her!
Photo credit: Vivek K. Singh