Transparent supply chains are key to consumer engagement. Your Public Value is happy to reproduce a blog written by KellyAnn Tsai of Transparency-One on consumer engament and how most of us care about the way brands invest in their own values and their supply chains. Transparency-One focuses on the supply chains of global brands and enables their transparency from source to store to create a healthier, safer, more sustainable world for consumers. We invited them in 2018 to discuss the role of blockchain in supply chain transparency. The question they ask today is crucial to all of us as customers: Are brands ready and confident that their supply chain is fully transparent?
Consumer engagement: are your supply chains ready?
"It's no secret that today's consumers want to know more about the products they buy. Combined with the popularity of mobile devices and new technologies like augmented reality, brands and retailers have the opportunity to engage with shoppers and share product stories in innovative ways.
Modern shoppers are no longer content to take a product at face value. According to the Food Marketing Institute's latest report, The Transparency Imperative:
93% of consumers say it is important for brands and manufacturers to provide detailed information about what is in food and how it's made.
When evaluating a company's transparency, approximately one third of consumers value indicators such as details on how products are produced and information on how ingredients are sourced.
When making a purchase, 44% of shoppers consider how a product was manufactured or grown, and 43% consider where the product was manufactured or grown.
More than three in four shoppers say they are very or somewhat likely to take advantage of smartphones and other devices to access more product information.
82% of shoppers prefer to get information about products right on the package.
What does this mean?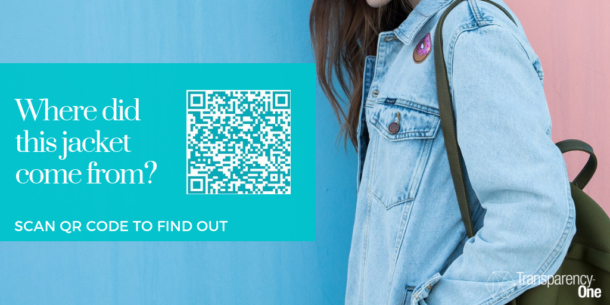 These statistics point to consumers' growing expectation to access more information about the products they buy, quickly and easily. To deliver, brands and retailers first need to collect detailed product information by connecting with their supply chain partners. Who do they work with? What are all the components, and where do they come from? How were they produced? Once this information has been gathered, they can then use the data to craft and share intriguing product stories with their consumers.
Transparency-One helps businesses in their journey to consumer engagement. The first step is discovering and digitizing the end-to-end supply chain to gather detailed product data. The second is communicating this information to consumers in intuitive and engaging ways, such as on-pack QR codes that can be scanned with a mobile device.
Supply chain transparency is essential not only for ensuring safe and responsible products, but also for connecting modern shoppers with the brands behind their purchases. In this way, businesses can build consumer loyalty and trust.