We all understand that our planet's sustainability largely depends on business and its engagement. Radical change is needed to help society and the environment worldwide, and business has the biggest potential for action. But before engaging, business needs to be convinced that sustainability strategies can be profitable. Your Public Value is happy to reproduce a blog written by Dr. Dominic Tantram of Terrafiniti on why companies should put sustainability at the core of their corporate strategies. The question Dominic Tantram asks today is essential to business: Can companies make money while caring about society and the environment?
The business case for sustainability
"If you work in sustainability/CSR/ESG it's pretty certain you'll have been asked what's in it for me? Perhaps more commonly this may be phrased as 'I can see this is important – but what's the business case for sustainability?'. There's sometimes a subtext – 'yes I can see how this may be important for many people, but what does it mean in a business context?' While the separation between what happens in the real world and within 'boardrooms' is sometimes puzzling for some of us, businesses leaders often struggle with seeing the value.
What is my business case for sustainability?
While some companies continue to view sustainability largely as a cost centre, it should really be seen as a value protector and driver which can deliver a range of commercial benefits. Depending upon your business's sector and competitive positioning these benefits will lie in one or more of four key categories:
Revenues & earnings
Sustainable innovation can create new products or markets and provide your organisation with performance characteristics, market recognition and differentiation.
Cost
Environmental efficiency and cost are closely aligned. Some of the fundamental resources which all businesses rely upon (energy, water, raw materials etc.) are becoming volatile in terms of price and supply. Lower risk businesses, those who move ahead of regulation and those who move to service future customer requirements and look after their suppliers and staff are likely to have save costs through lower insurance premiums and access to lower costs for capital.
Risk
Identification, assessment and management are common business processes and can provide a vehicle for understanding sustainability issues in the language of business risk – or opportunity.
Intangible value
Company governance expert Mervyn King suggests that 80% of average company value is non-financial. This refers to 'soft' issues not directly featured on balance sheets such as leadership, transparency, intellectual & human capital, and culture. Together these contribute to the company's ability to continue delivering value into the future. Sustainability issues have been identified among the top-ten drivers of intangible value.

Missing the obvious – sustainability blind spots
Each of the category areas above will already be subject to analysis and management by companies and investors. However, this does not mean that such analyses will be identifying the value protection or creation capabilities of sustainability.
This can be for two reasons
Narrow horizons
This refers to an inability to see how big picture sustainability trends impact on individual companies, and therefore only including a relatively narrow set of traditional business planning criteria in strategic analyses. A simple way of dealing with this is to adapt mainstream strategic assessment tools such as Porter's 5 Forces, and expand them to include a wider scope of issues.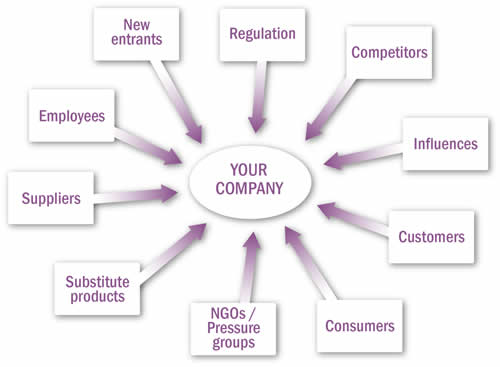 2. Narrow timescales
Building long-term value and resilience can require longer investment periods or more crucially longer payback periods than usual. Some companies frequently base policies on their investment/return requirements. Typically, this can be three years. A few years ago, we came across an oil and gas company that recognised their standard cost-benefit model payback time of break even within 3 years was a barrier to investment in sustainability. They changed their policy to allow break-even after 7 years, opening the door to a much greater focus on long-term value and a range of cost saving and impact reducing projects.
Building a strategic approach to the business case for sustainability
Few companies would argue that the next half century will not see trends that will reshape the nature of business. These trends will be dominated by sustainability concerns such as physical limits to growth, resource availability, climate change, social and demographic changes and increased, dynamically changing patterns of demand.
The long-term case for sustainable business is therefore one which is relatively easily made.
The challenge which companies still struggle with is the short to medium term case. Here are few tips for developing a more strategic approach to your business case now.
STEP 1
Consider the following issues, the changes they will bring to customer needs and demands, society and citizens, what will they mean for your sector and your company in 5/10/25/50 years?
Climate change
Emerging evidence on planetary boundaries
Population growth and changing demographics (as drivers/workforce/customers)
The need to tackle air, water and ground pollution
Regulatory objectives
Policy objectives, e.g. SDGs, de-carbonisation
Artificial intelligence, block chain and automation
Genetic modification and bioengineering
Values and ethics
Supply chain employment conditions, slavery, child labour
Toxic/problematic compounds in manufacture/products
Specific industry issues – e.g. plastics use and pollution
STEP 2
Taking your thoughts/notes from Step 1, in each of the suggested categories:
Consider what this may mean for your company in terms of:
Costs
Risks
Reputation, values and responsible behaviour
Meeting current/emerging customer demands
Regulation
STEP 3
Now it's coming to the crunch, after all you've considered:
Is business as usual viable for you in 5/10/25/50 years?
Building the business case for sustainability
Each of these can help you explore and map out different elements of the business case for your organisation. It can be difficult to convince people about things you understand, so include key people in your analysis and exploration.
Change is often difficult, but it's key to remember that business as usual, deciding to do nothing is also a choice, and one that will have consequences.
Dr Dominic Tantram is Partner at Terrafiniti. He is a sustainability professional with expertise in sustainable strategy, training and communications. His work has also included developing sustainability indicators, natural capital and ecosystem services, the organisational use of information, strategy development and reporting. Together with his brother & business partner Joss Tantram, he authored Terrafiniti's Towards 9 Billion e-Books, exploring new ways to create and value a sustainable future. We invited Joss Tantram in 2018 to discuss how the planet can move towards a sustainable future and their book Towards 9 Billion, a series of short books on how we could be ready to welcome 9 billion people, rather than fear their arrival.
Please leave your comments below and let's continue this conversation!